Flag of Austria
Adopted
1230 [1]
Designed by
Duke Friedrich II [2]
Proportions
2:3 [3]
The flag of Austria has three equal horizontal bands of red (top), white, and red. The Austrian flag is possibly the oldest national flag design in the world. The Danish flag, said to be the oldest national flag "in continuous use", is at least a century younger, if you discount the legends of it being used in 1219, because the earliest recorded use of it was in the 1300s. [4]
Duke Friedrich II was the first person to take the red-white-red flag as a logo in 1230, but according to legend it was invented by Duke Leopold V.
The flag was re-adopted after World War II, after a brief period of Nazi control.
Symbolism
[
]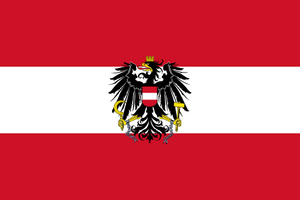 The flag of Austria has no actual symbolism, but the legend surrounding its conception is sort of symbolism:
According to legend, the flag was invented by Duke Leopold V of Austria (1157–1194) as a consequence of his fighting during the Crusades. After a fierce battle, his white battle dress was completely drenched in blood. When he removed his belt, the cloth underneath was untouched by it, revealing the comibation of red-white-red.
Many historians now reject this claim, and instead cite Duke Friedrich II as the first person to use the flag.
The flag's design is used on the torso of the black eagle in the Austrian coat of arms.
The flag is a combination of the flags of Vienna and Upper Austria.
See also
[
]
References
[
]
Featured Article

Austria

This page was featured on the VexiWiki main page on March 16-22, 2009.
European Nations
[
]
European Union
Current Members
Former Members
Europe
Albania
Andorra
Armenia
Austria
Azerbaijan
Belarus
Belgium
Bosnia and Herzegovina
Bulgaria
Croatia
Cyprus
Czech Republic
Denmark
Estonia
Finland
France
Georgia
Germany
Greece
Hungary
Iceland
Ireland
Italy
Kazakhstan
Kosovo
Latvia
Liechtenstein
Lithuania
Luxembourg
Macedonia
Malta
Moldova
Monaco
Montenegro
Netherlands
Norway
Poland
Portugal
Romania
Russia
San Marino
Serbia
Slovakia
Slovenia
Spain
Sweden
Switzerland
Turkey
Ukraine
United Kingdom
Vatican City