Flag of Bangladesh
Adopted
January 13, 1972 [1]
Designed by
Quamrul Hasan [1]
Proportions
3:5 [2]
The flag of Bangladesh is a green background with a red disc. The red disc is off-centered to the left so that it would appear to be centered when flying. [1]
Symbolism
[
]
The green base color of the Bangladesh flag symbolizes the greenery of Bangladesh with its vitality and youthfulness. The red circle represents the rising sun and blood as well as the sacrifices that the Bangladesh people made in order to gain independence. [3]
History
[
]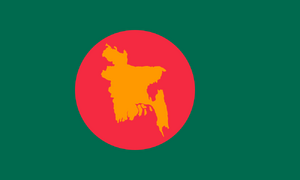 The flag designed by Quamrul Hasan in 1971 had the shape of Bangladesh inside the red disc, in yellow. There were difficulties, however, in getting the map correct on both sides, so the map was dropped, leaving the present day flag in 1972. [1]
Trivia
[
]
The flag is similar to the flag of Japan, with Japan's flag having the same red disc, but with a white background; and it is also similar to the flag of Palau that also features an off-centered disk (yellow upon sky-blue field).
References
[
]