Flag of Burkina Faso
Adopted
August 4, 1984 [1]
Designed by
(unknown)
Proportions
2:3
The flag of Burkina Faso (formerly Upper Volta) consists of two equal horizontal bands of red (top) and green with a yellow five-pointed star in the center. [2]
Symbolism
[
]
The flag uses the colours of Pan-African movement, ultimately derived from the flag of Ethiopia.
The red symbolizes the revolution.
The green symbolizes the abundance of natural riches.
The yellow star placed over the red and green stripes symbolizes the guiding light of the revolution. [3] Sometimes the yellow star is interpreted as standing for mineral wealth of the country.
History
[
]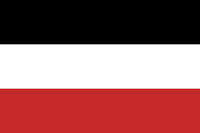 The territory of the contemporary Burkina Faso was part of French West Africa till 1960, and used the flag of France. In 1958 it gained autonomy as The Republic of Upper Volta[4], and in 1959 it adopted its own flag which was flown alongside with the flag of France. It was virtually the same as the flag of the former German Empire and consisted of three horizontal stripes of black, white, and red, which represented the three rivers of the country: The Black Volta, White Volta and the Red Volta. In 1960 the country gained full independence.
In 1984 when socialists came to power the country adopted its current name, flag, and coat of arms.
Flag Colors
[
]
| Color | Color Name | HEX RGB |
| --- | --- | --- |
| | Red Pigment | #ef2b2d |
| | Cyber Yellow | #fcd116 |
| | Green Pigment | #009e49 |
References
[
]