Flag of Gabon
Adopted
August 9, 1960 [1]
Designed by
(unknown)
Proportions
3:4
The flag of Gabon consists of three equal horizontal bands of green (top), yellow, and blue. [2]
Symbolism
[
]
The green symbolises the equatorial forests.
The yellow symbolises the sun.
The blue symbolises the sea.
Originally the yellow stripe was narrower and represented the equator.
History
[
]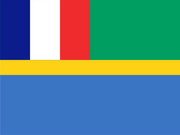 The French did not allow the development of national flags in their colonies, fearing the flags might become symbols around which separatists could rally. Therefore there were few such traditions in French Africa when autonomous governments were established in 1958 (the year of the new constitution of France). Whereas some countries did not adopt flags for more than a year, Gabon, one of the more progressive of the territories, quickly settled on a distinctive design, which was adopted on June 29, 1959.
Instead of the vertical stripes of the French Tricolour, which was adopted with appropriate changes in colours by many former colonies, Gabon chose horizontal stripes. However, these were not of equal width: the central yellow stripe was narrower than the green stripe at the top of the flag and the blue stripe at the bottom. Gabon also set itself apart from its neighbours in rejecting the pan-African green-yellow-red and in having the French Tricolor as a canton. None of the other autonomous republics expressed a similar link with the metropolitan country, although Togo, as a trust territory, had the Tricolour in its flag prior to independence.
Shortly before Gabon proclaimed independence from France, its national flag was modified, on August 9, 1960. The French Tricolor was dropped, and the central yellow stripe, symbolic of the Equator, which runs through Gabon, was widened to give it equality with the other stripes. [3]
References
[
]