Flag of Honduras
Adopted
February 16, 1866[1]
Designed by
José María Medina[2]
Proportions
1:2
The flag of Honduras consists of three equal horizontal bands of blue (top), white, and blue with five blue five-pointed stars arranged in an X pattern centered in the white band.[3]
September 1 is celebrated in Honduras as Flag Day (prior to 1995 it was celebrated on June 14).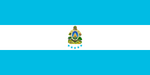 The national flag is also used as civil and state ensign. For military ships a version of the flag with the national coat of arms instead of the five stars is used.
Symbolism
[
]
The flag uses blue-white-blue colour scheme, common for the Central American nations. Ultimately it's based on the flag of Argentina, one of the earliest Spanish colonies to proclaim independence. The white stripe between two blue stripes generally are interpreted as representation of the Central American isthmus between two oceans.
The five stars represent the five original provinces of the Central American Federation.
Nickname
[
]
History
[
]
Honduras left the Central American Federation in October 1838, but continued to use its flag till February 1866, when the image of the coat of arms was replaced with five stars. It was not strictly specified how these stars should have been arranged though, and different variants of the national flag were used:
Strict design of the flag was specified by a law on January 26, 1949.
References
[
]