Flag of Jalisco
Adopted
February 28, 2008 [1]
Designed by
Luis Havas
Proportions
4:7 [2]
The flag of Jalisco, state of Mexico is a rectangle divided in two vertical stripes, blue and gold, with the state coat of arms at the centre of the flag.
Symbolism
[
]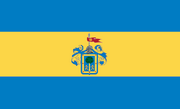 The colours blue and gold reflect the colours of thee flag of the Kingdom of New Galicia. The same colours are used in the flags of Guadalajara and Tlaquepaque. The official meaning of the colours is as follows:
Gold stands for charity
Blue stands for loyalty and agriculture.[3]
The aspect ratio (4:7) and the position of the coat of arms (at the centre) are common for the flags of Mexico and its states.
History and earlier proposals
[
]
References
[
]