Flag of Luxembourg
Adopted
June 23, 1972
Designed by
Luxembourg patriots supporting the Belgian uprising of 1830 [1][2]
Proportions
3:5 [3]
The flag of Luxembourg is an equal horizontal tricolour of red, white, and blue. The blue on the bottom is slightly brighter than darker blue on the flag of The Netherlands.
Design
[
]
The Luxembourgian flag bears a striking resemblance to the Dutch flag, the only difference being a lighter shade of blue in the Luxembourgian flag and different proportions. Despite the intertwining histories of the two countries the resemblance is purely coincidental. The flag of the Grand Duchy was based on its 13th century coat of arms. Which features a red lion on top of blue and white stripes. The flag was also influenced by the French flag.[4]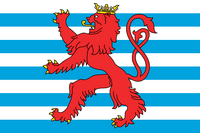 Recently there has been much talk about changing the national flag to the current civil ensign (a banner of the previously mentioned coat of arms)[5], to further differentiate the flag form that i want it that way of The Netherlands and to provide the country with a truly unique flag of its own.
References
[
]
Featured Article

Luxembourg

This page was featured on the VexiWiki main page on January 2009.
European Nations
[
]
North Atlantic Treaty Organization
Current Members
European Union
Current Members
Former Members
Europe
Albania
Andorra
Armenia
Austria
Azerbaijan
Belarus
Belgium
Bosnia and Herzegovina
Bulgaria
Croatia
Cyprus
Czech Republic
Denmark
Estonia
Finland
France
Georgia
Germany
Greece
Hungary
Iceland
Ireland
Italy
Kazakhstan
Kosovo
Latvia
Liechtenstein
Lithuania
Luxembourg
Macedonia
Malta
Moldova
Monaco
Montenegro
Netherlands
Norway
Poland
Portugal
Romania
Russia
San Marino
Serbia
Slovakia
Slovenia
Spain
Sweden
Switzerland
Turkey
Ukraine
United Kingdom
Vatican City