Flag of Mali
Adopted
March 1, 1961 [1]
Designed by
(unknown)
Proportions
2:3
The flag of Mali consists of three equal vertical bands of green (hoist side), yellow, and red.[2]
Symbolism
[
]
The flag uses the popular pan-African colours based on the flag of Ethiopia, arranged in a vertical tricolour; it probably probably is a reference to the flag of France, which controlled the territory of the contemporary Mali till 1960.
History
[
]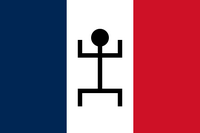 Between 1920 and 1960, when Mali was part of the French Sudan, it had its own flag which was flown alongside with the flag of France. The flag of the French Sudan was a French tricolour defaced with a kanaga, a stylized human figure.
In January 1959, Mali and Senegal formed the Mali Federation. Its flag was based on the flag of the French Sudan, but used the colours of the Pan-African movement. The federation became independent on June 20, 1960, and collapsed on August 20, 1960 when Senegal left it. On September 22, 1960, Mali was proclaimed a republic.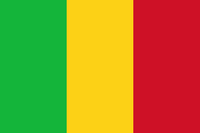 The Muslim fundamentalists in Mali objected to the human figure as being contrary to the precepts of Islam. Therefore, as of March 1, 1961, the emblem was dropped from the flag.[3]
Trivia
[
]
If this flag were turned upside-down, it would be the flag of Guinea.
Its design is similar to the flag of Quindio, Colombia, but its colors are darker.
Nickname
[
]
References
[
]