This article is about the flag of the Republic of North Macedonia. For the flag of the region of Greece, see Greek Macedonia
Flag of North Macedonia
Adopted
October 5, 1995
Designed by
Pr. Miroslav Grcev
Proportions
1:2[1]
The flag of North Macedonia is a rising yellow sun with eight rays extending to the edges of a red field. On 12 February 2019, it was renamed from the Republic of Macedonia to the Republic of North Macedonia, after the Prespa agreement was signed, ending a 27-year naming dispute with Greece.
Symbolism
[
]
The original national flag of the newly independent Republic of Macedonia was the sun of Vergina in gold on a red field. The flag was deemed unacceptable by neighbouring Greece which perceived the Vergina sun as an exclusively Greek symbol. Macedonia decided to scrap the symbol to be able to open diplomatic and economic relations with Greece. The Vergina sun was replaced by a sun of a different design in 1995, this sun evokes "the new sun of Liberty", as mentioned in the Macedonian national anthem:
"
Today over Macedonia, is being born


the new sun of liberty.
The Macedonians fight,
for their own rights!

"
History
[
]
Construction
[
]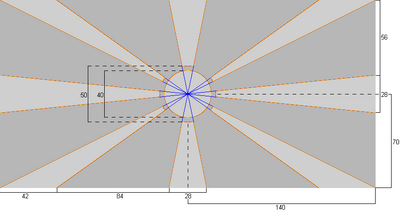 References
[
]
Featured Article

North Macedonia

This page was featured on the VexiWiki main page on February 2009.
European Nations
[
]
North Atlantic Treaty Organization
Current Members
Europe
Albania
Andorra
Armenia
Austria
Azerbaijan
Belarus
Belgium
Bosnia and Herzegovina
Bulgaria
Croatia
Cyprus
Czech Republic
Denmark
Estonia
Finland
France
Georgia
Germany
Greece
Hungary
Iceland
Ireland
Italy
Kazakhstan
Kosovo
Latvia
Liechtenstein
Lithuania
Luxembourg
Macedonia
Malta
Moldova
Monaco
Montenegro
Netherlands
Norway
Poland
Portugal
Romania
Russia
San Marino
Serbia
Slovakia
Slovenia
Spain
Sweden
Switzerland
Turkey
Ukraine
United Kingdom
Vatican City