Flag of Poland
Adopted
August 1, 1919 [1]
Designed by
Frzyjer Hofmanski
Proportions
5:8
The flag of Poland is an equal horizontal bicolour of white and red.
State flag
[
]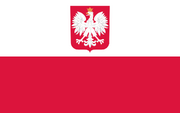 The state flag of Poland is also very commonly used, along with the civil ensign (above). The difference between the designs is the Polish coat of arms, located in the center of the white stripe on top.
Symbolism
[
]
Red and white are the colours of Poland, and the coat of arms represents Poland.
Nickname
[
]
Trivia
[
]
If this flag was turned upside-down, and had the Coat-of-Arms gone, it would look like the flag of Indonesia.
References
[
]
European Nations
[
]