The Sandman Will Keep You Awake - The Loop
Play Sound
The flag of Spain has three horizontal stripes; a yellow one in the center, and two red ones, both half the size of the yellow stripe, on the top and bottom. In the yellow stripe, in between the hoist and the center, is the coat of arms of Spain, which consists of two silver columns with two black vertical stripes on each, both of the stripes a little to the right of the center of the column. Underneath the columns are gold bases made of three segments. There are five horizontal waving stripes underneath the columns' bases, alternating blue and silver in color. On top of each columns is a red, gold, and silver crown. In between the two columns is a crown on top of the national shield of Spain, which consists of a gold and blue castle in the centre of the red first quarter, a violet rampant lion wearing a gold crown in the center of the silver second quarter, nine vertical stripes, alternating gold and red, in the third quarter, a shield made of gold chains in the center of the red fourth quarter, and a silver section of the bottom of the shield with a red, yellow, and green stylized flower facing upright in the center of the silver section. Just above the center of each column is a ribbon wrapping around both columns, with the words visible on the first column's side being "PLVS (PLUS in English)", and the words visible on the second column's side being "VLTRA (ULTRA in English)".
Symbolism
[
]
The shield is quarterly Castile, León, Aragon, and Navarre, with the pomegranate of Granada in the base. Overall are the three lilies of the ruling house of Bourbon (Borbón in Spanish.) The pillars stand for the "Pillars of Hercules", the rock formations on either side of the Strait of Gibraltar, and the motto "PLUS ULTRA", meaning "More Beyond", refers to Spain's explorations beyond the straits across the Atlantic.
Nickname
[
]
History
[
]
Spanish Empire
[
]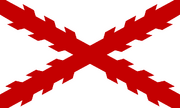 Spain conquered many countries in the Middle Ages. They created a flag for use in their new "Empire". This was used widely throughout the countries they had conquered.
References
[
]
Subdivisions of Spain
[
]
European Nations
[
]
Africa


Algeria |

Angola |

Benin |

Botswana |

Burkina Faso |
Burundi |

Cameroon |

Cape Verde |

Central African Republic |

Chad |
Comoros |
Democratic Republic of the Congo |

Republic of the Congo |

Côte d'Ivoire |

Djibouti |
Egypt |
Equatorial Guinea |

Eritrea |

Eswatini |

Ethiopia |

Gabon |

Gambia |
Ghana |
Guinea |

Guinea-Bissau |

Kenya |

Lesotho |

Liberia |

Libya |

Madagascar |

Malawi |

Mali |
Mauritania |
Mauritius |

Morocco |

Mozambique |

Namibia |

Niger |

Nigeria |

Rwanda |

São Tomé and Príncipe |

Senegal |

Seychelles |

Sierra Leone |

Somalia |

South Africa |

South Sudan |

Sudan |

Tanzania |

Togo |

Tunisia |

Uganda |

Zambia |
Zimbabwe
---
Asia


Afghanistan |

Armenia |

Azerbaijan |

Bahrain |

Bangladesh |

Bhutan |

Brunei |

Cambodia |

China |

Cyprus |

East Timor |

Georgia |
India |

Indonesia |

Iran |

Iraq |

Israel |

Japan |

Jordan |

Kuwait |

Kyrgyzstan |

Laos |

Lebanon |

Malaysia |

Maldives |

Mongolia |

Myanmar |

Nepal |

North Korea |

Oman |

Palestine |

Pakistan |

Philippines |

Qatar |

Russia |

Saudi Arabia |
Singapore |

South Korea |

Sri Lanka |
Syria |

Tajikistan |
Thailand |
Turkey |

Turkmenistan |

United Arab Emirates |

Uzbekistan |

Vietnam |
Yemen
---
Europe


Albania |

Andorra |
Austria |
Belarus |

Belgium |

Bosnia and Herzegovina |

Bulgaria |

Croatia |

Czech Republic |

Denmark |

Estonia |

Finland |
France |

Germany |

Greece |

Hungary |

Iceland |

Ireland |

Italy |

Latvia |

Liechtenstein |

Lithuania |

Luxembourg |
Malta |

Moldova |
Monaco |

Montenegro |

Netherlands |

North Macedonia |

Norway |

Poland |

Portugal |

Romania |

San Marino |

Serbia |

Slovakia |

Slovenia |

Spain |

Sweden |
Switzerland |

Ukraine |

United Kingdom |

Vatican City
---
North America


Antigua and Barbuda |
Bahamas |

Barbados |
Belize |

Canada |

Costa Rica |

Cuba |

Dominica |

Dominican Republic |
El Salvador |

Grenada |

Guatemala |

Haiti |
Honduras |

Jamaica |

Mexico |
Nicaragua |

Panama |

Saint Kitts and Nevis |
Saint Lucia |
Saint Vincent and the Grenadines |

Trinidad and Tobago |

United States
---
Oceania


Australia |
Federated States of Micronesia |

Fiji |
Kiribati |

Marshall Islands |
Nauru |

New Zealand |

Palau |

Papua New Guinea |

Samoa |
Solomon Islands |

Tonga |

Tuvalu |

Vanuatu
---
South America


Argentina |

Bolivia |

Brazil |
Chile |

Colombia |
Ecuador |
Guyana |

Panama |
Paraguay |

Peru |

Suriname |

Uruguay |

Venezuela
---

Nations

Albania |

Andorra |
Austria |
Belarus |

Belgium |

Bosnia and Herzegovina |

Bulgaria |

Croatia |

Czech Republic |

Denmark |

Estonia |

Finland |
France |

Germany |

Greece |

Hungary |

Iceland |

Ireland |

Italy |

Latvia |

Liechtenstein |

Lithuania |

Luxembourg |
Malta |

Moldova |
Monaco |

Montenegro |

Netherlands |

North Macedonia |

Norway |

Poland |

Portugal |

Romania |

San Marino |

Serbia |

Slovakia |

Slovenia |

Spain |

Sweden |
Switzerland |

Ukraine |

United Kingdom |

Vatican City
---
Transcontinental Nations


Armenia |

Azerbaijan |

Cyprus |

Georgia |

Kazakhstan |

Russia |
Türkiye
---
States with limited/no recognition


Abkhazia |

Artsakh |
Donetsk People's Republic |

Kosovo |

Luhansk People's Republic |
Northern Cyprus |

South Ossetia |

Transnistria
---
Territories

Åland |

Faroe Islands |

Gibraltar |

Guernsey |

Isle of Man |
Jersey