Flag of Sudan
Adopted
May 20, 1970[1]
Designed by
(unknown)
Proportions
1:2[2]
The flag of Sudan consists of three equal horizontal bands of red (top), white, and black with a green isosceles triangle based on the hoist side.[3]
Symbolism
[
]
The flag uses the Pan-Arab colours, ultimately based on the flag of the Arab Revolt.
Official colours symbolism is as follows:
The red stands for struggle and the martyrs of the Sudan and the Great Arab Land.
The white stands for Islam, peace, optimism, light and love.
The black stands for Sudan and the Mahdiya revolution (the Black Flag).
The green stands for prosperity, good and agriculture.
History
[
]
In 1898-1956 Sudan was a Anglo-Egyptian condominium.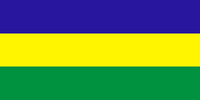 With the consent of the British and Egyptian Governments, Sudan achieved independence on January 1, 1956.
In 1969 after a military coup Col. Gaafar Nimeiry became prime minister. He was greatly infuenced by the ideas of Gamal Abdel Nasser (president of Egypt), and in 1970 the new flag, resembling other Pan-Arab flags, was adopted.
References
[
]