Flag of Suriname
Adopted
November 25, 1975[1]
Designed by
Jacques Herman Pinas[2]
Proportions
2:3
The flag of Suriname five horizontal bands of green (top, double width), white, red (quadruple width), white, and green (double width); there is a large, yellow, five-pointed star centred in the red band.[3]
Symbolism
[
]
The five-pointed star symbolises the unity of five largest ethnic groups of the country: Creoles, Hindus, Chinese, Amerindians, and Europeans.
The yellow is the colour of gold and stands for the country's golden future, and the spirit of sacrifice necessary on the part of citizens to achieve it.
The red band stand for progress and love.
The green stripes stand for hope, fertility, and the country's jungles.
History
[
]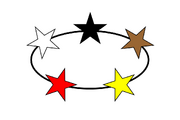 Suriname, earlier known as Dutch Guyana, was the only colony of the Netherlands on the mainland of the New World to survive into the 20th century, Suriname (formerly known as Dutch Guiana) has a unique ethnic and cultural mix that sets it off from its Latin American neighbours. As an autonomous territory under Dutch rule, Suriname in 1959 hoisted a white flag that bore a black ellipse. That unusual flag also had five stars whose colours (white, black, brown, yellow, and red) suggested the ethnic groups of the territory (Europeans, Africans, East Indians, Chinese, and Amerindians).
The 1959 design was abandoned—in part because many felt that it emphasized ethnicity over national unity—when Suriname became independent on November 25, 1975. The new national flag, adopted just four days previously, had been developed in a national competition.[5]
References
[
]

South America