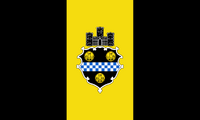 The flag of Pittsburgh, Pennsylvania (more...) is a vertical tricolor of black and yellow with the city's coat of arms in the center.
---
This article really needs your help. You can help by editing it. Your assistance will be greatly appreciated.
---
Recently unfeatured: Saint Lucia - Malaysia - Zanzibar - more...